For all weapons see Category:Weapons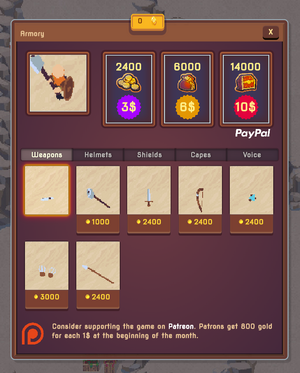 The armory is accessible from the main menu page by clicking your player. The armory is only accessible to those who have an account and are logged in. The armory was updated on 6/16/17 to look like the image to the right. See below for the old armory model.
The armory shows you what new items you can buy, and what items you can equip. Hovering over a weapon, hat, or shield previews it on your character.
The armory consists of:
You can buy any item if you have enough coins, and you can also pay for coins through PayPal if you do not have enough.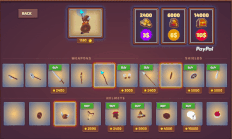 Which Includes For Armory:
Note: Only weapons can change you game play abilities. The rest are for character customization.
Community content is available under
CC-BY-SA
unless otherwise noted.