The knife is a throwable
item
that is placed in one of the two right slots in the
player's inventory
. The knife is a projectile that can be kicked back or blocked if timed correctly. The knife deals 2 damage if it hits a hostile
player
. The knife, being a
player's inventory
projectile, is also aimed by moving the mouse. The Knife was one of the 4 first items added into the game, alongside the
Health Potion
,
Haste Potion
and
Bomb
.
How to Find it?
The Knife can be found floating above Item Pedestals, Item Containers and inside Crates. Additionally, there is a Knife Shop in both the Ruins and the CTF (Capture the Flag) game modes, where you can trade any items for Knives.
Old Model

The old Knife model was a thin knife with a leather handle. In the earlier days of
Wilds.io
, the Knife was a powerful tool, dealing 4 damage while knocking down enemies.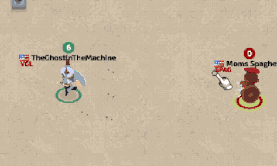 Community content is available under
CC-BY-SA
unless otherwise noted.